2013 Management Company of the Year!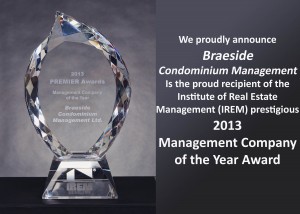 Discover the Braeside Difference because after all, it's not just your home, it's also your investment.
As one of the highest-rated condominium management companies in the Chicagoland area, our principal goal is to make life easier for association boards and residents. We seek to maximize the financial health of every community with the written commitment of establishing a long-term trusting business relationship with each residential development we serve.
For over 20 years Braeside's hands-on management team has provided timely and efficient services and maintenance along with advice and planning to our clients that provides clear and accurate information allowing boards to act in the best interest of their residents. The foundation of our success is based upon the long-term collaborative relationships we establish with our clients through custom tailoring the right combination of planning and services.
Braeside Condominium Management strives to maximize the well being of our clients' properties financial and physical health as well as their marketability. The organizational style and size of Braeside assures that clients receive personalized attention from our experienced and highly-trained management team as well as direct participation from Braeside's executives.
Braeside Condominium Management can help you find everyday solutions your board needs and strategies for long-term value enhancement that your owners' demand.